Alice van Meurs
[Fashion Designer]
Name
Alice van Meurs (Sutton)
Makes
Sustainable women's fashion under the label EDITION
Find Alice here
In store at Assemblage Project in Braddon and Craft ACT shop in Civic
The Beginning
I was born and raised in Canberra. I started my label EDITION after studying a Bachelor of Design in Fashion. After I finished studying I shared a studio at CIT with 2 other Canberra designers. This studio worked as an incubator space for graduate designers and helped with the transition into starting my own business and made the decision to stay in Canberra easy.
I love Canberra, I find it very calm. I love that anywhere you are in Canberra is a quick walk on to a reserve with gums and kangaroos. I lived in London for a year after high school and before then I thought I would move to Sydney or Melbourne to study, but after living in a big city I could not wait to come back to beautiful Canberra.
I feel very lucky to have been able to create and make for my job. This has relied on my family and friends being supportive, especially in the early years when I needed financial and emotional support. A few years into my business I was feeling that I wasn't completely sure of my direction anymore which had been clear when I first graduated. A competition for Australian designers to go to Seoul and meet Korean designers came at the perfect time for me. The selection process made me assess my business, my designing and the direction of my label. Becoming one of the designers to go over to Seoul is one of the most inspiring experiences I have had. The skills and ideas I gained through the Australian Korean Emerging Designers Exchange Program has helped clarify to me why I am a designer and what I have to offer with my label.
The Process
I love to get in early to the studio and will usually do some paper work/emails first thing. Then I write a list and prioritise what is most important for the day. I will work on orders and depending on what colour threads I have on the machine finish off scarves or other pieces. Then I will usually add to or look at my big picture goals and ideas about projects. Then in the afternoon if I feel like I have got through enough of my orders I will do some designing and thinking by trying on older pieces, holding fabric up and working on patterns.
While studying I developed a pattern making system which creates patterns that do not waste fabric once they are cut out. I call this process Selvedge to Selvedge and love designing in this way.
I currently have a studio at ANCA (Australian National Capital Artists) in Dickson. It is an amazing space where I have my own lock up studio and there are 19 other studios as well. I have really enjoyed being in a creative community and would recommend it, even if you like being alone, it is great to connect with others in the same position as you especially if you are having a tough day.
I sometimes find it hard to switch off from my work as it is very much part of my identity. What I have found over the years is when I am relaxing and having family and friend time is to do things that could inspire work or be a new source of inspiration. I like going for walks, taking photos, going to galleries or seeing an exhibition.
Inspiration
The calm nature of Canberra has always inspired me, I love seeing the Brindabellas and walking on the reserves. Usually I find inspiration through nature and what I see, this is the starting point for me with most projects. Then the trial and error of working with different fabrics and different body shapes. The female body is a huge inspiration for me, fashion is always in relation to the body and can't exist without it.
When I have a creative block with a project I always go for a walk and talk over different ideas in my head. I then try and visually think about the different steps that I need to take to complete a project. Then when I get back to the studio I do a mind map to connect the dots. Then I start working with the fabric and it will dictate the final direction.
I also love collage and working with paper which is probably more like scrapbooking but I'll call it creating visual diaries as that sounds much cooler! I also love photography and would like to improve and take better photos.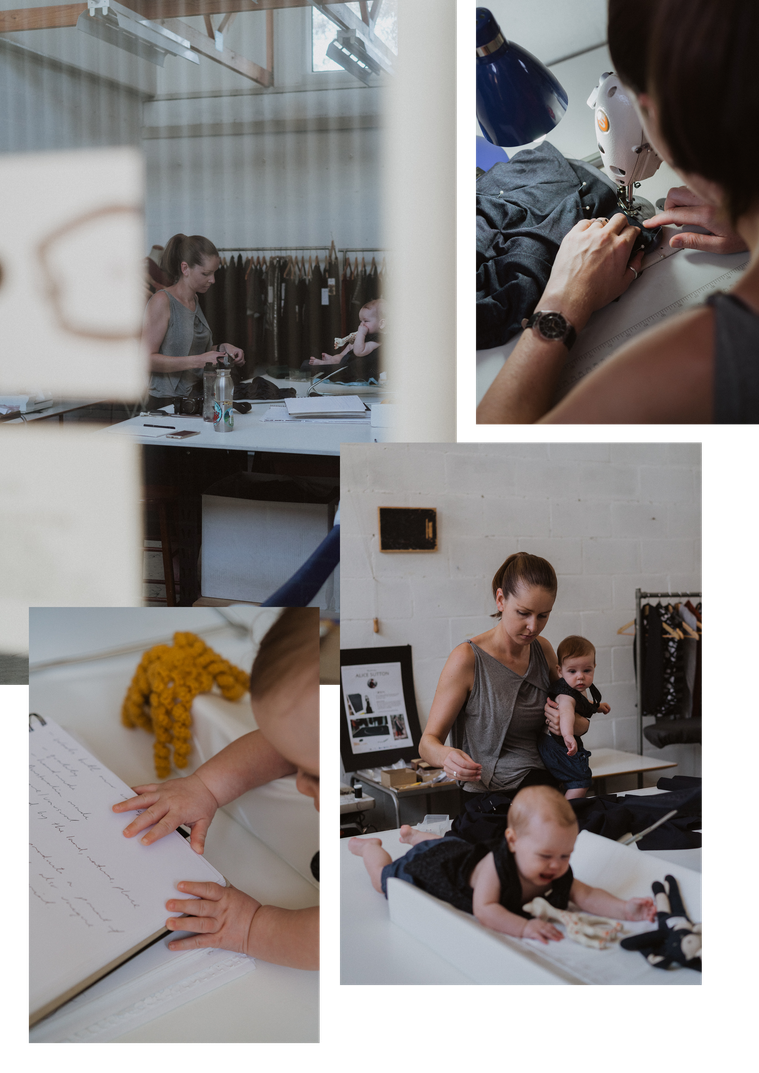 Future
My future plans are to have a studio at home, as I would love to be able to invite people into my space to collaborate with and I will be able to get in there once my girls are asleep! My other plans are to collaborate with more artists in different disciplines and continue doing projects that I love.
I love Canberra and I think that there are people doing amazing creative projects here. I love being part of the community and am excited for my girls to grow up in Canberra and have the same opportunities I have had.