Jennifer Freebody
[Artist]
Name
Jennifer Freebody
Creates
Art
Find Jennifer here
A few pieces in her upcoming exhibition are currently for sale at D'Browes restaurant.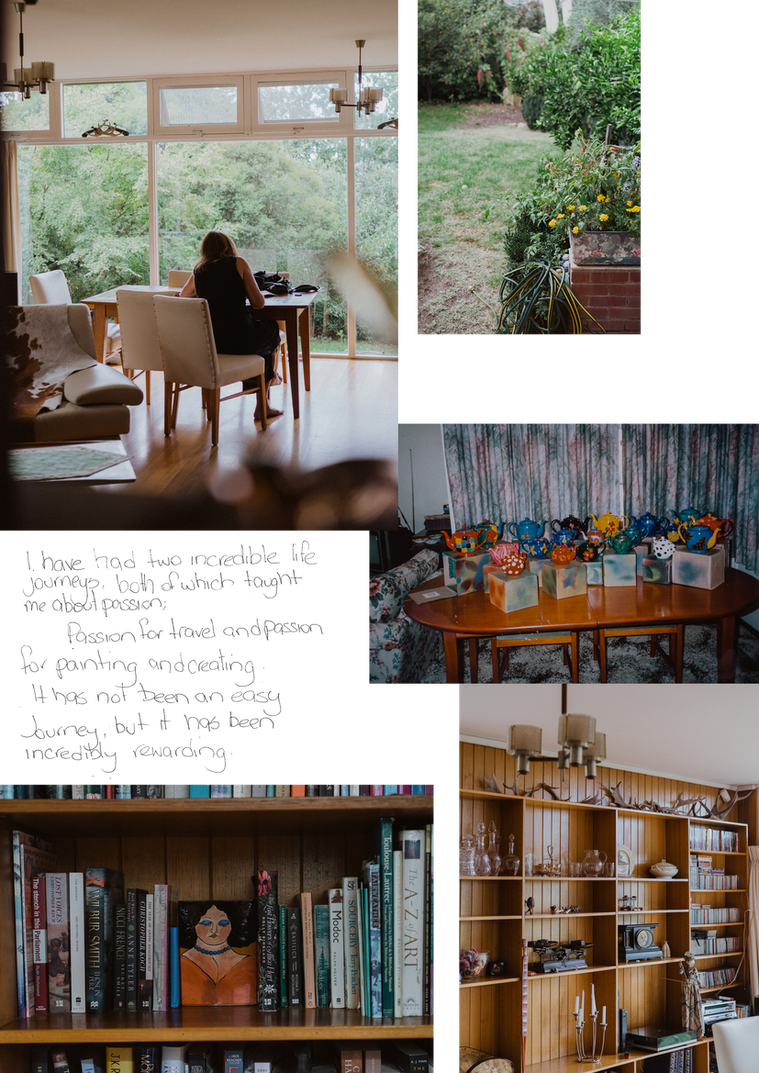 The Beginning
I was born and raised in Canberra. After an incredible journey overseas in the early 80's I returned to Canberra and was in a horrific car accident which changed my life. The physical injuries were shocking, but the mental anguish was even more distressing. I had a lot of time on my hands, too much time, too much time to think of what I had lost.
A physio suggested painting out the anger, I couldn't paint anger, but I sure could paint beautiful rich bright patterns. I had an old plain red teapot, so I painted it. The first thing I painted was the beginning of my second incredible journey, not discovering the world but discovering me. As a kid I had never been interested in drawing or painting, but in managing my injury painting started giving me back some of what I had lost, my independence and self-worth, and best of all the thrill of creating. My underlying passions were there just waiting to burst out.
I started selling hand painted teapots at the Gorman House markets for $15 a teapot, a few years later they were selling for $150 each. I then applied to the Canberra School of Art to do a fine arts degree. To my utter delight I was selected out of the 150 people who applied for only 15 positions. Since then I have had 3 solo exhibitions, 2 of which were sell outs. I have been involved in many group exhibitions and I have also completed many commissions.
I have had two incredible life journeys, both of which taught me about passion; passion for travel and passion for painting and creating. It has not been an easy journey, but it has been incredibly rewarding one.
And that's how I became an accidental artist.
The journey to where I am today, like many journeys, they have their ups and downs. Creativity is much like travel, it can be tough but when you put in the hard work and find that holy grail – awesome. I just love that saying: "Life is not measured by the number of breaths you take, but the things that take your breath away." My journey takes my breath away. When inspiration and creativity hits, it's a physical experience.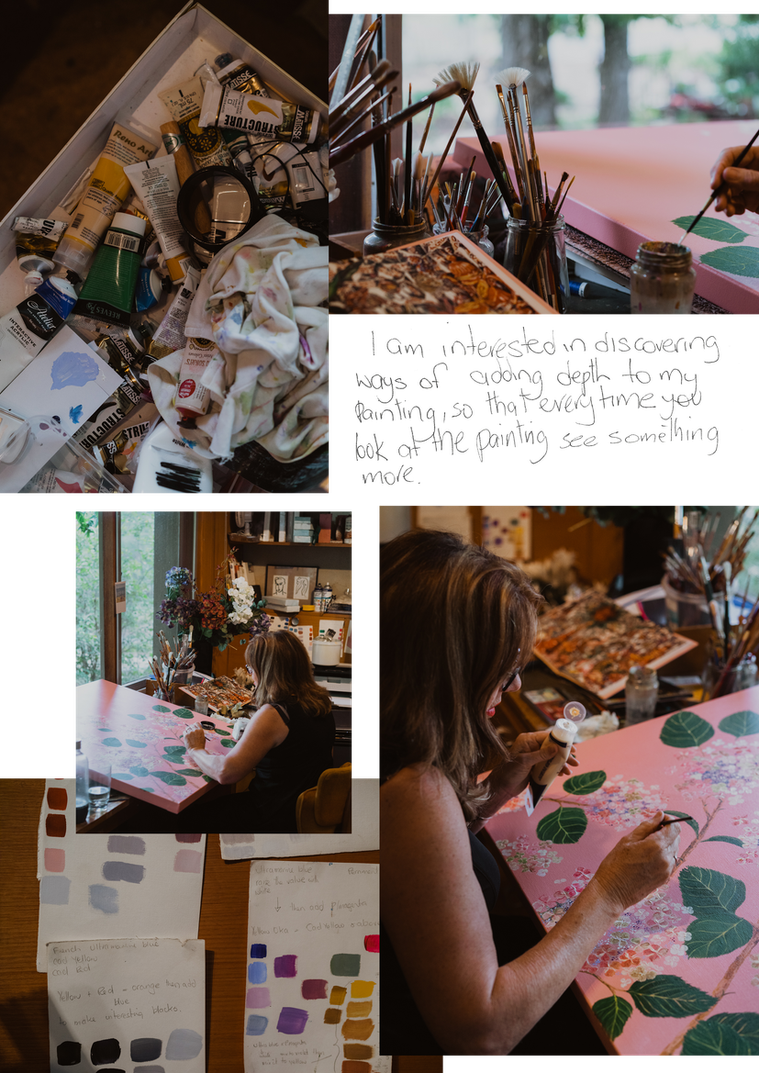 The Process
I usually go into my studio at home at about 1pm and I paint for two to three hours. I try to be disciplined about painting every day, and most days I succeed.
I tend to paint series instead of one-off artworks. Usually when the muse/inspiration hits I have so much excitement one painting couldn't and often can't contain all the imagery.
I start with small canvas's 10x30cm, these are my idea blocks. One idea I had I painted 8 idea blocks then expanded the idea to a bigger canvas. And that's where I ran out of steam, the muse left me. And that's fine, I have learnt over the years to just go with the passion, paint until it runs out, that could mean 8 paintings or 18.
I am interested in discovering ways of adding depth to my paintings, so that every time you look at the painting you see something more. I lead you on a journey across the canvas, in and out, over and under, looping back to another point, a thread that leads you down steps to yet another level for contemplation.
To some extent I treat my painting as a job, the very best job! As I mentioned I work most afternoons so that leaves me plenty of time for play and following my other interests.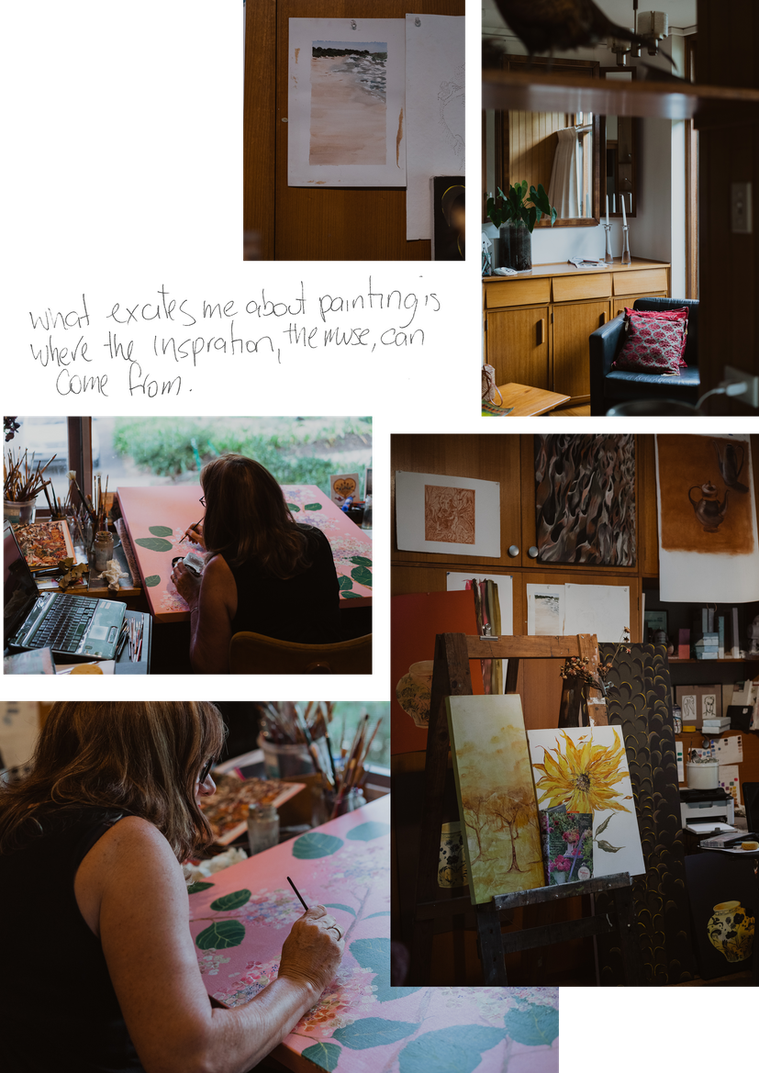 Inspiration
What excites me about painting is where the inspiration, the muse, can come from. When the spark of imagination is ignited, I become intrigued, bewitched and then the thrill of excitement when an idea starts to take form. From the most simple of things, once noticed, my imagination takes flight and an almost manic excitement grabs me and I can't wait to get the idea onto canvas.
Inspiration comes from anywhere and everywhere, it never ceases to amaze me. For one idea called "Effervescence", the inspiration came from swimming in the Manuka pool. Because of the unusual width and depth of the pool, when you do a tumble turn at the deep end, the bubbles you create are incredible, there is only one word for it – Effervescence. A full body schweppwevescence, millions of tiny bubbles that tickle your arms and tummy and caress your back and slide up your neck as they race each other to the surface. It truly is an amazing experience, the way the light sparkles through the bubbles is captivating. Sometimes I tumble twice or three times or more, often coming up chocking as I can't stop laughing at the experience. Such the inspiration.
Observing the cornucopia of flowers and fruits that bloom and ripen through the changing seasons in Canberra, was what initially inspired me to start painting my last exhibition, Musing Botanical. Influenced by those colours and floral images, I love the way the bold sometimes lyrical botanical images float or race across the canvasses adding intrigue. The idea of painting borders was at first used to help contain the images, but as the ideas kept coming, there was no way I could contain them, so they have burst out of their confines much as spring flowers do, spilling over their borders.
The exhibition I am painting at the moment came from 2 exhibitions I saw in Melbourne. One was the John Olsen retrospective, I am using some of his colours as my palette. The other was the famous Japanese woodblock artist Hokusai, his woodblock images of flowers just took my breath away.
So many things inspire me about Canberra; the lake, the seasons (some friends and I had a very successful exhibition "Autumn in Canberra" held at the Watson art gallery), the gardens, the bush, the lifestyle.
To get past creative block I don't push it, I have faith inspiration will come, when its ready.
I also love to make things, I knit, I sew, I make sculptures with my friend Kate – we were finalists in the Waterhouse prize last year, so I collect material, ribbon, wool, all sorts of things, you never know when inspiration hits and you need that perfect little something.
Future
I am currently working on paintings for an exhibition, but after that I plan to just keep on keeping on, more paintings, more sculptures, more creativity.
I love Canberra so I plan on staying put.